Ask Me Anything: Teaching with Comic Books!
Have you ever used comic books to teach? Tim Smyth has, and he is ready to share his secrets with you in our first "Ask Me Anything" on VoiceThread! Learn how Tim has used comics to teach his high school students about the Civil Rights marches, Japanese internment camps, and more during this special, one-week only, online event.
Tim has helped hundreds of educators learn how to use comics to teach a variety of subjects like history, science, and classic literature, and he can share his strategies with you, too. If you and your students would like to participate, just open the VoiceThread below and record your questions for Tim! It's that easy.

[](/wp-uploads/2017/11/SuperSmyth-2.jpg)
---
[](/wp-uploads/2017/11/SuperSmyth-2.jpg)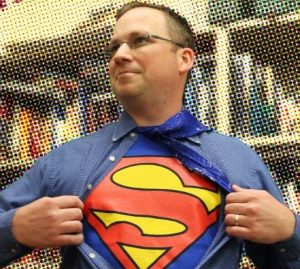 About Tim Smyth:
Tim Smyth is a high school social studies teacher of 16 years with a MS Reading Specialist degree who believes all educators are teachers of reading.  He travels the country sharing the power of comics in education for both students and teachers.  This VoiceThread will give you resources and lessons you can use in your classroom tomorrow, no matter your subject area or level!