Digital PenPals and VoiceThread
This is a guest post by Educator and VoiceThreader, Mary Ellen Davies.
In my 10 years as an educator, I have learned that there is definitely a difference between "teacher cool" and "student cool."  When "teacher cool" and "student cool" are the same, the result is something incredible!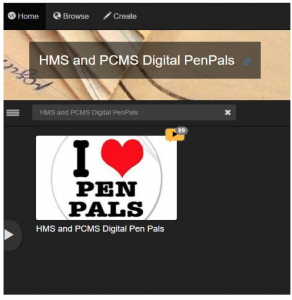 At the start of the school year, Daynon Blevins, an 8th grade literacy teacher at Hillsborough Middle School in Hillsborough, NJ, mentioned to me that he would like to find pen pals for his class.  He was interested in giving his students an authentic audience to communicate with to share original ideas and learn about life in another part of the United States.  A post on Google+ connected us with Brandi Metts, a Computer teacher from Pierce County Middle School in Blackshear, GA.  After a quick brainstorming session, both teachers were on board with connecting their students as VoiceThread digital pen pals.  
We paired the students, enrolled them in our shared VoiceThread group, created a VoiceThread and the interaction began.  The second slide in the VoiceThread was the first prompt. The students were to share basic personal information including favorite movie and music group, extra-curricular activities, other interesting information and any questions they had for their pen pal.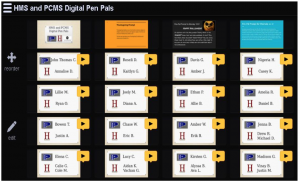 Some of Brandi's students recorded first and Daynon's students were so excited to listen to what their pen pals said and have some questions to respond to.  The students have responded to 3 prompts so far and the interactions have gone beyond the expected singular response to each prompt.  We've checked out the time stamps when the students record their responses; they are continuing the discussions outside of class-time and are recording new responses during free periods and at home!
The real magic happened when Daynon's students signed in to VoiceThread to record their initial posts and comments from Brandi's students started appearing.  The excitement from Daynon's students about the "real-time" connection was amazing!  Even though the students had already finished their initial recording, they were eager to listen to their pen pal's recording and respond.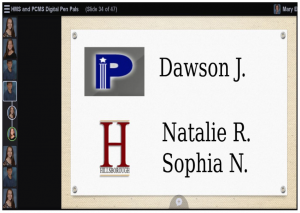 The students in both classes are excited about this connection and engaged in the activity.  What more could a teacher want?  Oh, maybe to hear "This is so cool!" from nearly every student in your class.  VoiceThread has helped Daynon and Brandi connect their students and find the sweet spot where "teacher cool" and "student cool" meet.
---
About the Author:
Mary Ellen Davies is a Computer Support Teacher at Hillsborough Middle School in Hillsborough, NJ. Prior to this, she taught German for 8 years. She is a VoiceThread Certified Educator.
** **