How VoiceThread Helped My Work-Life Balance
This is a guest post by VoiceThread user Laura Volpintesta.
I'm so excited to be in my first year teaching fashion illustration for myself. 
6 years ago, as a relatively not-tech-savvy individual, (and full time faculty member/single mother of two at Parsons School of Design Fashion Department,) I was assigned to the project of creating their very first completely online fashion studio and illustration course by my very kind supervisor who figured that teaching a few classes online "would give me more time with my kiddies".  Well, she was right, since I was teaching 10 studio classes per year.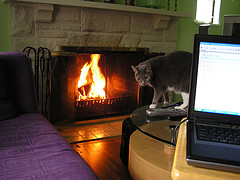 Image Source: flickr Tina Lawson
In the first year, before VoiceThread, we used a really awkward blog format where each student would scan their artwork /homework and each student in the class would be required to give targeted feedback to  a certain number of their peers.  
The students would get typed feedback from myself from their peers too— a hugely rich source of support and insight from a fashion peer community that is a wonderful for the course.
Enter VoiceThread, recommended by Shira Richman and James O'Connor at the New School University (I teach at Parsons the New School for Design Fashion School).
With the addition of VoiceThread the course took on another slant which was so unique and beneficial that when I launched my own online fashion teaching business Fashion illustration Tribe less than a year ago,  I realized that VoiceThread just had to be a part of it.
VoiceThread was irreplaceable!!!
Students upload their drawing and design/ illustration assignments each week. Not only can we video, record, or type our commentary, cheering each other on, giving each other ideas and perspectives, but as the teacher I can use that pen tool to help them understand exactly where to add in a line of stitching or a missing seam.  When drawing a standing fashion figure, I can show them where the "s-curve" or arabesque is, or how to use the plumb line to balance their drawing so that the figure never looks like they are falling over.
The fact that I can draw on their assignments is that missing piece that no other program offers me.
So FashionIllustrationTribe's courses use VoiceThread, and that was one intentional choice I made without hesitation.  I think the students are delighted and surprised by that aspect of it.
…And you low what? My supervisor was right. I WAS able to spend more time with my homeschooled kiddies (now teenagers) while teaching online, as my students (who are often mothers, single mothers, and business owners), do. When I was on the Full Time Faculty at Parsons, I used to commute 2 1/2 hours EACH WAY in and out of New York City before VoiceThread.  (Only two days per week, but still….)
Image Source: flickr joiseyshowaa
When the arrival of my third child 4 years ago forced me to give up my full time position, I became vehemently passionate about changing the "shape" of our careers and educations to integrate with the realities of our family and creative lives.  VoiceThread is part of this new culture that is changing family life, changing the economy and bringing parents home—making dreams come true while balancing work, study, and life.
Laura Volpintesta teaches Fashion at Parsons School of Design, she is the Founder of FashionIllustrationTribe.com, an online Fashion Design course and community.